Content Summary
| | |
| --- | --- |
| | There's nothing more important in terms of human capital management than operationalizing equity throughout the employee life experience. The only way to operationalize equity is to get everyone - employees and managers alike - on the same page and understanding how to make decisions that are applied uniformly and constantly across employee demographics, and based on business needs - not personality issues. |
Course Versions
Equal Employment Opportunity (EEO) Managers (45 Minutes)

Equal Employment Opportunity (EEO) Employees (35 Minutes)

Equal Employment Opportunity (EEO) Federal Contractors (50 Minutes)
Note: Additional versions of the above courses are also available to provide a few video scenario alternatives to reflect a warehouse setting. The only changes to the course material are a few select videos and any video-related text cards. These courses are available upon request.
A course timer is not included in the course. You may deploy a course with a timer using our Course Timer feature.
Languages
The course is available in English and 50 languages that have been translated through machine translations if you are hosted on our Emtrain AI platform. If you are a SCORM client, please review this article for more information.
Required Course Elements
Written Policies
A PDF of, or link to, your written EEO policy is available for clients to upload and configure their policy. Emtrain provides a help desk tutorial showing account admins how to complete this task for hosted AI and SCORM.
As part of the course, learners must both read and acknowledge receipt of your EEO policy using the Policy Acknowledgement cards.
Policy Acknowledgment
Default Policy Acknowledgment cards included in the Equal Employment Opportunity course include:
EEO Policy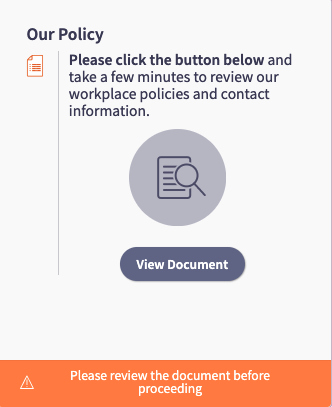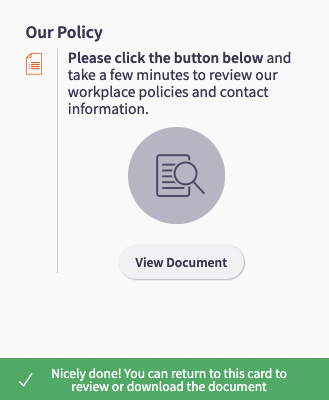 FAQs
What happens if we do not have an EEO policy?
It is highly recommended you develop a workplace policy on EEO so that your workplace is appropriately protected.