Now that you've configured your campaigns, it's important to review the following Pre-Launch Checklist. This will ensure the best learner experience for your employees, and will help your campaigns run smoothly.
Jump ahead to:
Pre-Deploy Checklist
🎯 Step 1: Technical Specifications
Review the minimum system requirements for both operating systems and browsers, and instruct your employees to update if needed.
Review the allowlist information

and provide necessary details to your company's IT team.
🎯 Step 2: Employee Data & Training Groups
Double check that any employee roster imports you conducted for this training cycle were successful, and correct import errors if necessary.
Double check which learners are falling into each of your groups, and adjust group rules if necessary.
🎯 Step 3: Content Configuration/Company Policies
Ensure that you have uploaded your company policy to your training if needed, and that it's viewable. For a list of all courses requiring embedded company policies, check here.
Ensure that you've selected the correct content. For Preventing Workplace Harassment state requirements, you can double check this interactive map

.
🎯 Step 4: Campaign Configuration
Double-check your campaign details to ensure your schedule, content, and targeted training groups are correct - remember that these details cannot be changed after deploying.
Review your configured notifications & use the Send to Individuals button to send yourself a test email.
🎯 Step 5: Know what to Expect
Review our Learner FAQs to prepare. Note that all users have access to ask our Support Team a technical question by clicking on the ​? Help icon near the User Menu.
Consider launching a test/pilot campaign

by creating a

one-off group

in order to test curriculum functionality, ensure clear communication, prepare your internal leaders, and populate dialog cards with initial employee data.

Familiarize yourself with the timing of your campaign deployment.

If deploying on the indicated start date, your campaign will move from Draft to Scheduled, and may take up to 30 minutes to become Active.
If you deploy your campaign prior to the start date you've chosen, the campaign will remain in Scheduled mode until your indicated start date. Once the system begins sending out the Welcome email notifications on your start date, the campaign status will automatically become Active.
Now that you've gone through the Pre-Deploy Checklist, you are ready to
Deploy Your Campaign! 🎉
To deploy, click on the deploy button at the bottom of the Campaign configuration screen.

A summary screen populates to confirm the campaign settings. If everything is satisfactory, click Yes, deploy the campaign to move forward. Alternatively, click No, I changed my mind to return to the campaign configuration screen to make any necessary adjustments.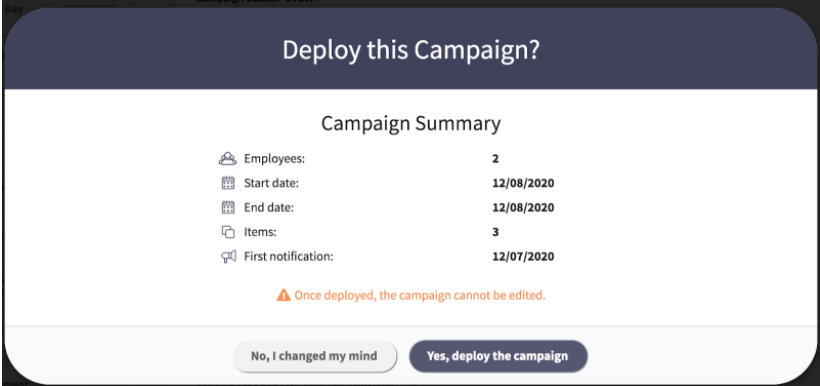 Congratulations! 🎊