What if I or another user has a hearing impairment, how can we use the training?
The audio portions of our training are limited to video presentations. The video player within the training contains an option to turn subtitles on or off. English subtitles are incorporated into all videos presented in our programs and microlessons. To access the subtitles, please click the CC option which will reveal all available subtitle languages. Select the language in which you would prefer to view subtitles.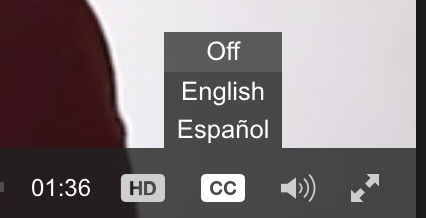 What if I or another user is visually impaired, how can we understand the training?
Emtrain courses combine written content with audio/video presentations. Learners can toggle Audio Narration ON for all courses, which will read out all written content as the learner progresses. The training is also currently being adapted to permit most screen readers to read the text on screen and assist learners with navigating the platform.
What if I or another user is color-blind, how can we use the Workplace Color Spectrum?
The Workplace Color Spectrum will look in different color deficiencies. Here is an example of what a user may see depending on the color deficiency they has.

Within the exercises, the names of these colors are labeled to help employees feel comfortable using the color name to identify a workplace situation. As a user moves the indicator along the spectrum, they will see the name of the color as part of the description.

Additionally, the Workplace Color Spectrum icons are another visual indicator for clarity.