Content Summary
What does it mean to be respectful? Some conduct is obviously disrespectful. But many times, how people evaluate conduct is influenced by their life experiences and their established norms of behavior. Given our varied workforces today, that leaves a lot of ambiguity in the type of conduct that people consider to be "harassment."

📎 Download Global Preventing Workplace Harassment Program Summary
Course Versions
Preventing Workplace Harassment Global (PWH11 Global) (70 Minutes)
See our Harassment Training Guide for 2021 for clarification and best practices when assigning trainings to your workforce.
Non-Timed Course
A course timer is not included in the course. You may deploy a course with a timer using our Course Timer feature.
Languages
The course is available in British English and 50 languages that have been translated through machine translations if you are hosted on our Emtrain AI platform. If you are a SCORM client, please review this article for more information.
Required Course Elements
Written Policies
A PDF of, or link to, your written workplace harassment prevention policy is available for clients to upload and configure their policy. Emtrain provides a help desk tutorial showing account admins how to complete this task for hosted AI and SCORM. Find a Sample Workplace Harassment Policy on our website, if needed.
As part of the course, learners must both read and acknowledge receipt of your workplace harassment policy using the Policy Acknowledgement cards.
Default Policy Acknowledgement cards found in the Preventing Workplace Harassment Global program include:
Workplace Harassment Policy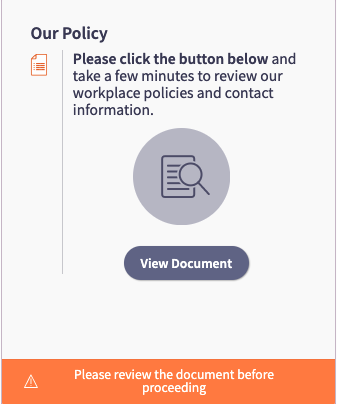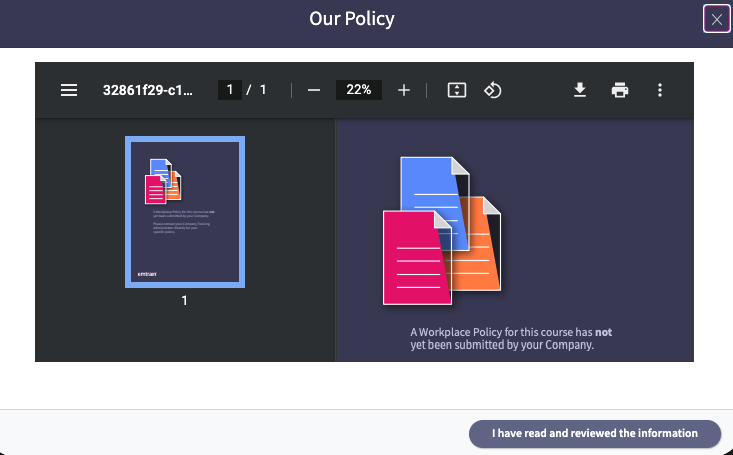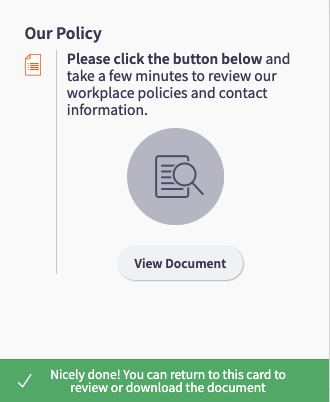 FAQs
Is this program compliant with my country's laws?
In many countries, such as Colombia, Belgium, France, and India, it is mandatory for employers to have an anti-harassment policy. Even where anti-harassment training and/or policies are not mandatory, generally they are strongly recommended as a best practice (given failure to train the workforce and have policies can expose the employer to liability).
In most countries, an employer will be liable if it fails to protect employees from harassment in the course of their employment. So training and having policies is in practice typically required to minimize risks (i.e., to show that all practicable steps were taken to provide a safe workplace).