SKIP AHEAD TO
Notifications are the emails that will be sent to Campaign participants. By default, a Welcome notification is set to be sent 0 days before Campaign Start Date.
---
Creating Notifications
Click the

Add Notification

link

Select the

Notification Type

to select from one of the templates provided (Welcome, Reminder, Past Due, Completion)

Add a numerical value in the

# of days

field

Set the

Scheduling Option

by selecting between: # of days before start date, # of days after start date, # of days before due date, and # of days after due date

Customize the Subject
Add a Sent From Name and Sent From Email address
Add a Reply To email address
Edit or update the template to create your intended message

Click the

Save

button at the bottom of the template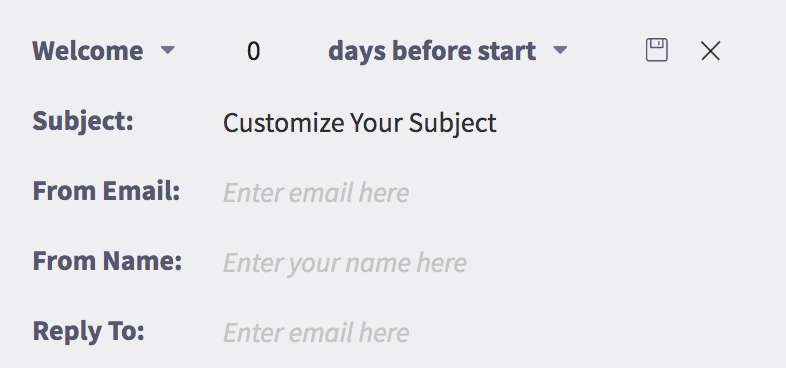 Editing Notifications
To edit the Scheduling Options, the # of days, or the email body, click the pencil icon to the right of the notification you wish to edit.
Previewing Notifications
Click the

Send To Individuals

button

Add or update the email addresses in the

Recipients

box

Click the

Send Notification

button
Deleting Notifications
Click the Delete button

On the

Are you sure you want to delete the notification?

screen, click the

Yes, I'm Sure

button
Notification FAQs
There is no "draft" stage of the Notifications, only a draft & review stage of the entire campaign. Once a Campaign Status is Active, all emails listed will be sent according to the set schedule.

Custom templates are not stored nor are they accessible within a campaign nor from another campaign.

The login link will be included as both a button and a URL in the emails. There is no way to alter these.

Scheduled notifications are sent at midnight pacific time of the scheduled day.